Primary researchers
Barbara GERKE (Project leader)
Barbara Gerke (M.Sc. Medical Anthropology and D.Phil. Social Anthropology, University of Oxford) works across the disciplines of Medical Anthropology and Tibetan Studies, researching medico-religious interfaces in Sowa Rigpa across the Himalayas. She has been the PI of four research projects at Humboldt University of Berlin (2011–2015) and the University of Vienna (2015– present).
For the DFG-Project in Berlin she explored Tibetan pharmacological detoxification processes, specifically of mercury. During the FWF (Austrian Science Fund) Lise-Meitner senior research fellowship (2015–2018), she researched biographies of Tibetan precious pills. The FWF project "Potent Substances in Sowa Rigpa and Buddhist Ritual" (2018–present) focuses on broad understandings of nus pa and the artisanship of medicine making.
Her open-access monograph Taming the Poisonous: Mercury, Toxicity, and Safety in Tibetan Medical Practice (Heidelberg University Publishing, 2021) examines the use of refined mercury in Tibetan medicines and related safety and toxicity debates. Her first monograph Long Lives and Untimely Deaths (Brill, 2012) analyzes long-life rituals, as well as vitality and life-span concepts among Tibetans in the Darjeeling Hills.
Jan VAN DER VALK (Postdoc)
Jan M. A. van der Valk (PhD, University of Kent) is a scholar-practitioner specializing in Sowa Rigpa. Drawing on a multidisciplinary training in anthropology, ethnobotany, and biology, his interests revolve around Eurasian medicinal plants, traditional pharmaceutical processes, more-than-human ecologies, and knowledge transmission. He mainly conducts ethnographic fieldwork in the Himalayan valleys of Ladakh (India) and Kathmandu (Nepal). Jan works part-time as a postdoctoral researcher at the Department of South Asian, Tibetan and Buddhist Studies (University of Vienna), from where he contributes to two Austrian Science Fund research projects which he co-conceived with his colleagues: Potent Substances (2018–2023) and Pandemic Narratives (2023–present). Besides academic work, Jan maintains a private Tibetan medical practice in Belgium, where he compounds his own herbal teas, decoctions, and powders, while also collaborating with his teacher Gen. Pasang Yonten Arya as the editor in chief of Bedurya Publications.
William MCGRATH (Postdoc)
William McGrath (PhD in the History of Religions, University of Virginia) is the Robert H. N. Ho Family Assistant Professor of Buddhist Studies at New York University. His research interests include Buddhism in East and Central Asia, Tibetan and Chinese medical traditions, Tibetan language and history, and the intersections of religion and medicine. He edited the volume entitled Knowledge and Context in Tibetan Medicine published with Brill in 2019, and has published articles about widespread diseases in Tibet for Cultural Anthropology (2020), Asian Medicine (2021), and the Journal of the American Oriental Society (2021).
---
Bhutanese collaborators
Tandin DORJI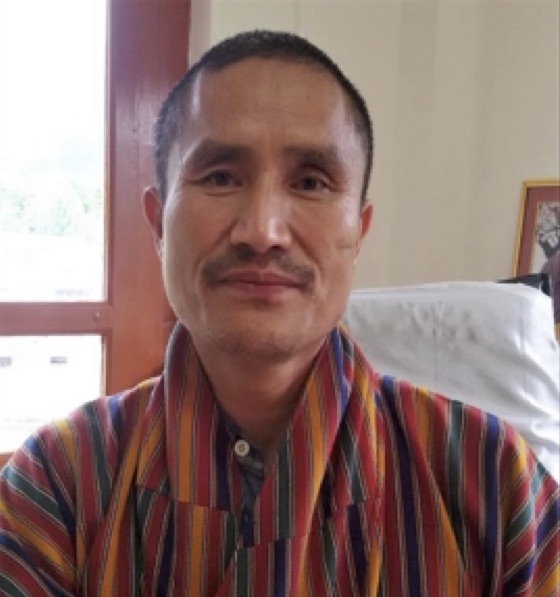 Tandin Dorji is president of the Norbuling Rigter College in Paro, Bhutan (2017–present). He holds a PhD (2009) and a MPhil degree (2002) in Anthropology from the University of Nanterre, Paris, France. He under-went additional skill training on Environment and Climate Change at Griffith University, Brisbane, Australia (2012) which has nurtured his interest in environmental protection and ecological policies. He is mainly working in the educational sector, developing research plans, syllabi and text books at the college level in Bhutan. Currently, he is writing a book on the history of Pema Lingpa. Anthropologically, he worked on indigenous Himalayan rituals of strengthening life-forces and vitality in rural Bhutan.
We collaborate with Dr. Dorji to ethnographically study pandemic ritual and protective practices in Bhutan.
Dendup CHOPHEL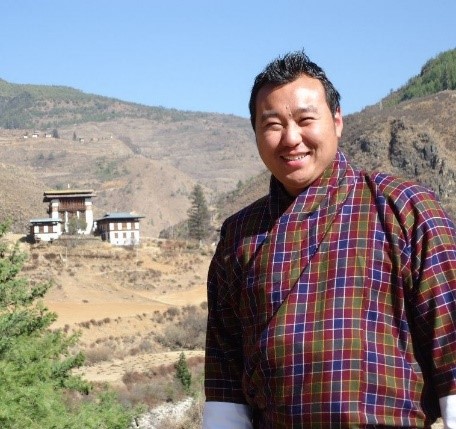 Dendup Chopel is a Research Fellow at Friedrich-Alexander-Universität Erlangen-Nürnberg (Germany), and Associated Researcher at the Institute of Social Anthropology (Austrian Academy of Sciences). His research interests lie at the intersection of the anthropology of religion, ritualism, material prosperity, economic development, and social movements and changes with a regional focus on South Asia, particularly focusing on the Himalayas and Bhutan. His PhD thesis explores the relation of a Bhutanese community to its state, and how this relation is mediated by the state's bureaucratic and political expediencies as much as it is by the people's capacity to adapt and flourish. He worked as a Research Officer for the Centre for Bhutan Studies–an autonomous governmental think tank organization–studying the impact of state policies on the socio-cultural and economic practices of the people, and how the people in turn shape the state's decision-making considerations and processes.
We work together with Dr. Chopel to research the interfaces between Buddhism, Sowa Rigpa, and governmental vaccination campaigns in Bhutan.
---
USA Collaborators
Prof. Sienna Craig, Nawang Tsering Gurung and their colleagues documented "COVID-19 Diaries" by Tibetan and Himalayan communities during the early phases of the pandemic in New York. In this project, we collaborate with them to analyze the various pandemic narratives documented in these sources.
Sienna CRAIG
Sienna R. Craig is Orvil Dryfoos Professor of Public Affairs in the Department of Anthropology at Dartmouth College, Hanover, New Hampshire (USA). She received her BA in Religious Studies from Brown University (1995) and her PhD in cultural anthropology from Cornell University (2006). Craig is the author of The Ends of Kinship: Connecting Himalayan Lives Between Nepal and New York (University of Washington Press, 2020), Mustang in Black and White, with photographer Kevin Bubriski (Vajra Publications, 2018), Healing Elements: Efficacy and the Social Ecologies of Tibetan Medicine (University of California Press, 2012) and Horses Like Lightning: A Story of Passage through the Himalayas (Wisdom Publications, 2008). She is the co-editor of Medicine Between Science and Religion: Explorations on Tibetan Grounds (Berghahn Books, 2010), and Studies of Medical Pluralism in Tibetan History and Society (IITBS, 2010), among other publications.
Nawang Tsering GURUNG
Nawang Tsering Gurung is an independent researcher, consultant, translator, speaker and tour specialist originally from the Himalayan region of Mustang in Nepal and now based in New York City. He is the coordinator of the oral history project Voices of the Himalayas: Language, Culture, and Belonging in Immigrant New York, which has been documenting the languages, cultures, social histories, folklore and community life of Himalayan New Yorkers, together with the Endangered Language Alliance and scholars. He is also founder and director of Yulha Fund, a non-profit dedicated to ensuring sustainable livelihoods and improving access to education and healthcare in the Himalayan communities of Nepal. He is currently on the advisory council of the Rubin Museum of Art. He is the co-author on several presentations and publications based on his work and co-author of the book Dogyab: Ritual Tibetain de Conjuration du Mal, a study of Bon religion in Nepal.
---
Dr. Tidwell and Dr. Namdul are the principal investigators of the NACTMOS North American COVID-19 Tibetan Medicine Observational Study. They designed and carried out the study with their colleagues in 2020, documenting 15 Tibetan medical practitioners treating 140 patients with mild to medium COVID-19 symptoms in the USA and Canada. Through a retrospective analysis of the NACTMOS study, we trace the ways in which Tibetan medical knowledge of infectious disease, contagion, prevention, and treatment traveled globally in response to the pandemic.
Tawni TIDWELL
Tawni L. Tidwell (PhD, Emory University) is a Tibetan medical doctor and biocultural anthropologist. Her current work bridges Western and Tibetan medical approaches to wellness at the Center for Healthy Minds (University of Wisconsin-Madison), while seeing patients in her private clinical practice. She came to University Vienna in 2022 as the Numata Visiting Professor and taught courses on Sowa Rigpa at ISTB. She also completed a one-year postdoc with the Austrian Academy of Sciences' Institute of Social Anthropology (ISA) on the ERC-funded Project RATIMED (Reassembling Tibetan Medicine). She is an advisor and associate translator for the Tibetan Community Healthy Network, a Tibetan language-based health education resource for Tibetan populations. She has also been a research associate on the Potent Substances project.
Tenzin NAMDUL
Tenzin Namdul is an assistant professor at the University of Minnesota's Center for Spirituality & Healing and faculty at the Center for Global Health & Social Responsibility. He is also the Director of Tibetan Healing Initiative. As a medical anthropologist and a Tibetan medical doctor, Namdul is driven to understand mind-body relationship in studying aging and memory through the lens of biocultural and Tibetan medical paradigms. He incorporates his wide array of training into translational science to examine how cultural values and practices shape the ways in which individuals age and die, and care for others who are dying. Namdul's current research examines the prevalence and factors associated with Alzheimer's Disease and related dementia among Tibetan Buddhist monks in South India.